Leipzig. Marathon runner Marcus Schöfisch doesn't really care if there are three stripes, a long hook or a crooked hashtag sewn on the side. The main thing is that the running shoe fits and still offers a certain level of comfort even after 40 kilometers - if that's even possible. But finding the right equipment is not easy. The selection is gigantic, the prices vary greatly and new models flood the market every year. The Leipzig marathon aces Marcus Schöfisch (lauftraining.com) and Nic Ihlow (SC DHfK) explained to SPORTBUZZER what they look for when choosing shoes and what is behind the trend towards carbon shoes.

Advertisement
About 1,000 kilometers per pair of shoes
"The shoes should always be adapted to the situation and the goals," says Schöfisch, who changes pairs depending on the distance, speed and surface. The shoe rack is correspondingly full. A common problem with endurance runners. "I definitely have more pairs than my girlfriend," says Ihlow with a laugh. You need different shoes for different training contents, but you shouldn't wear them two days in a row, because the material needs time to expand again after the run. "Several couples come together," sums up Ihlow. But the 25-year-old student doesn't want to exaggerate, also to save a few euros, because sponsor Adidas doesn't send him endless amounts of footwear, of course.

Tips from Nic Ihlow for a healthy start in running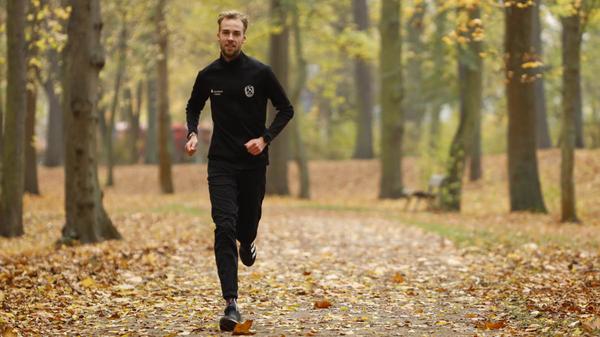 The professional athlete Schöfisch assigns the different demands on the sneaker as follows: Comfortable shoes for long runs, particularly light shoes for high speeds and a lot of stability for bumpy forest paths. But the right pairs should always be bought from the experts. "That's actually the most important tip I can give: Buy your running shoes in a specialist shop," explains the 33-year-old. The shape and size of the feet must be determined, the gait analyzed and the shoes must be tried on. Not imaginable online – unless you already know your favorite model.
"I basically wear everything. The brand doesn't matter, I just look for the best ones," says Schöfisch, who covers around 150 kilometers a week and wears out a corresponding number of slippers. A couple manages about 1,000 kilometers before the material is gone, but the professional doesn't want to monitor it closely. "I do it by feel. In recent years I've noticed that my tendons, ligaments and joints always tell me when a shoe is worn out," explains the marathon runner.
Carbon plates for competitions
For competitions, Schöfisch and Ihlow have an ace up their sleeve: shoes with carbon plates. An ace that almost every runner plays now. "When Nike came onto the market three years ago, athletes from Adidas or Asics didn't have access to them," says Ihlow, adding: "But now every athlete has access to carbon shoes. In almost every competition, the fastest runners wear pairs like this. There are hardly any exceptions." The winner of the Leipzig Marathon 2019 also wants to use the tiny advantage in his next competition. "It's also a matter of the head. It helps to know you're wearing the best shoes."
The desire to be a few seconds faster has made us inventive. But the additional soles in the sneakers are expensive and hardly an advantage for amateurs. "I think it's only worth it if you run the marathon in under three hours. Maybe even less than 2.5 hours," estimates Schöfisch. The minimal energy gain is only available at higher speeds and even then "we're talking about seconds here." At least he wouldn't recommend the expensive fun to a hobby athlete. Top priority remains: High wearing comfort to protect the feet and joints.